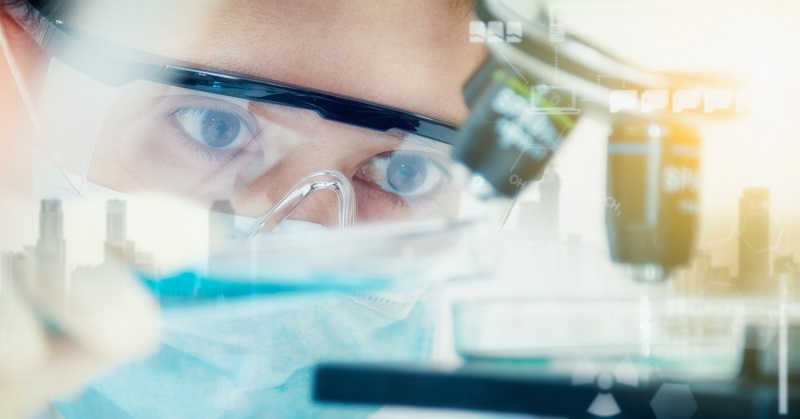 You might not know it, but Amgen is responsible for more than a dozen commonly used medicines. These treatments have helped treat millions of Canadians diagnosed with cancer, cardiovascular disease, rheumatoid arthritis, and much more. On top of that, Amgen puts more than $70 million dollars in Canadian research and development every year, and is helping the next generation develop a passion for STEM.
Here are just a few additional ways we're leading the way for biotechnology in Canada and around the world.
Biotechnology Research
At its core, Amgen is a biotechnology company dedicated to pushing the boundaries of science, research and innovation. As a pioneer in the discovery and manufacture of biologic medicines, Amgen redefined the industry by isolating a gene that enhances the production of red blood cells in 1983. Since then, we've consistently demonstrated our expertise in this field, becoming one of the first biotechnology companies to operate on a vast scale. We employ some of the world's leading scientists and specialists, who are developing innovative solutions to real health challenges.
One of Amgen's most notable developments was the BiTE (Bispecific T Cell Engager) antibodies. This immunotherapeutic approach helps the body's T cells recognize, engage and target cancer cells.
Canada's contribution to Amgen's global research and development initiatives cannot be overstated. In fact, one of Amgen's six world-class research and development facilities has called Burnaby, B.C. home for over 25 years. Known for its pioneering work in the discovery and development of human antibodies for therapeutic treatment, the location contributes to the development of innovator biologics. It's further proof that Canadian scientsts are doing crucial work every day to bring innovative products to patients in Canada and around the world.
Manufacturing Processes
Of course, Amgen's excellence doesn't end there. Over the past 30 years, our diligent research has resulted in the manufacture of countless biologic medicines. These treatments have helped treat medical conditions such as rheumatoid arthritis, cancer, rare blood disorders and more.
Amgen is extremely committed to manufacturing rigor and quality control. In fact, we've built our reputation on it. Made from living cells, our biologic medicines are more complex than other compounds and small-molecule drugs. Minor changes in the manufacturing process can impact the efficacy or safety of biologics. Amgen's track record of reliable biologic supply demonstrates the high degree of precision and quality control we maintain throughout the manufacturing process of all of our medications and products.
Community Involvement
Amgen isn't just a pioneer in biotechnology manufacturing, though. Through a series of charitable and educational programs, Amgen has established itself as a STEM leader around the world. Our roster of science education programs includes the Amgen Biotech Experience and Amgen Scholars, both of which foster a love of science and pave the way for the next generation of scientists.