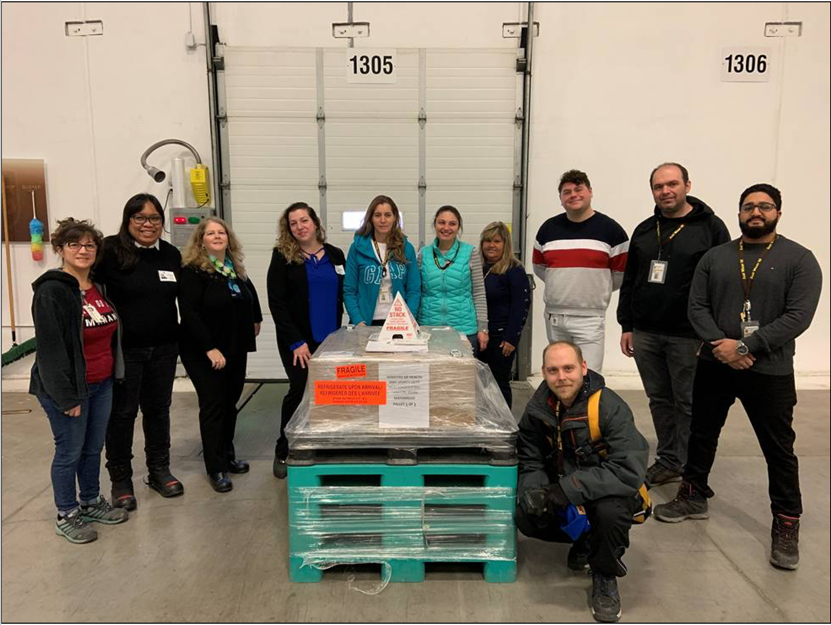 Canada team and pallet of donated Amgen medicines (Photo credit: Tracey Roberts)
Despite incredible advances, cancer remains a leading cause of death worldwide. If you live in a low- or middle-income country (LMIC), these odds can be devastating. According to the WHO, approximately 70% of deaths from cancer happen in LMICs, partly due to lack of access to diagnosis and treatment, as well as late-stage presentation and a lack of data.
To respond to this acute need for cancer treatment in LMICs, in 2018 Amgen worked with Direct Relief to develop an overseas treatment access pilot program. This program focused on providing underserved cancer patients in developing countries with access to Amgen therapies and cancer adjunctive therapies.
We are pleased to once again collaborate with Direct Relief on additional donations. Six thousand doses of Amgen medicines were donated and delivered to hospitals in Tanzania and Myanmar. Quality and Supply Chain teams in Canada were responsible for making this donation happen. They collaborated proactively with other teams as needed and worked together to ensure the products were packed and shipped to ensure product quality and compliance with all relevant import/export regulations.
The team also persevered through added challenges as a result of the COVID-19 pandemic. Accessing shipping supplies from the US for example was more difficult, and with limited air travel available, the coordination of flights also posed as a challenge. "Despite encountering several hurdles in late 2019, our cross-functional team was able to identify solutions. I'm pleased to confirm that Amgen Canada's first donation was shipped to Myanmar in February, and a second donation was shipped to Tanzania at the end of June," says Janet Szymanski, Senior Manager, Supply Chain (Distribution), Amgen Canada.
"We are proud to have the opportunity to provide assistance and service to patients in need," reiterate Quality Assurance team members Natalie Radoncipi (QA Specialist) and Ann Gagno (Senior QA Associate). All of us at Amgen share in the Canada team's pride at our ongoing partnership with Direct Relief. We are honored to have this opportunity to provide access to potentially lifesaving medications to cancer patients in LMICs and we remain committed to living our commitment to serving patients regardless of where they live.