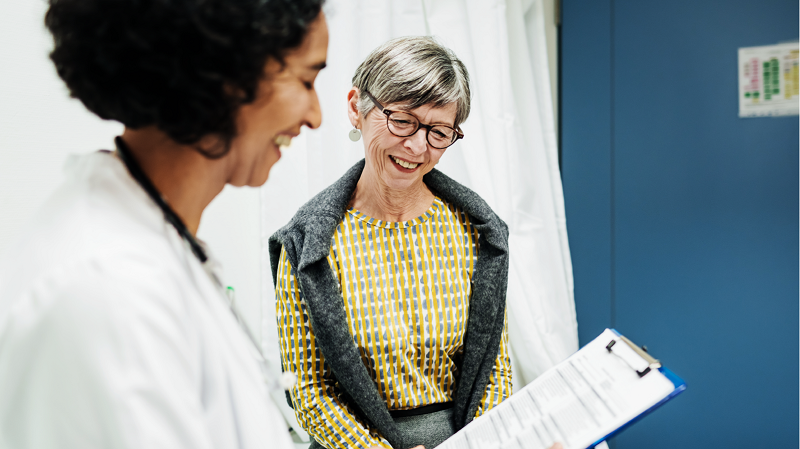 As systems slowly recover from the impact of the COVID-19 pandemic, the topic of fragility is being carefully analyzed in the aftermath by the public and decision-makers alike. It's imperative to grasp what that looks like in the Canadian healthcare context.
Amgen Canada believes patient care is always a priority. The cost of a reactive healthcare system is high; people seeking long-term care, chronic illness treatments and mental health assistance are asked to wait while other issues take priority. This can result in delayed treatment, missed care, and in some circumstances, death. In fact, an estimated 1539 cancer patient life years were lost over a 6-month period.
As post-pandemic healthcare levels begin to return to normal, leaders and medical professionals are starting to consider the future of preparedness and response. We want to be part of that conversation. For us, resilience means innovation, adaptation and looking toward a switch to a proactive healthcare system. It's about solutions that support a predictive approach to health risks and allow patients to thrive.
What is resilience?
Resilience is the degree of change a system can undergo while maintaining functionality.1 The definition initially covered only capacity but has been expanded to recognise the contribution of individuals operating as independent entities of wider social, political and economic responses that are primed to share information and data.2
Resilient healthcare systems are:
Decentralised and collaborative
Driven by data sharing, analysis, and optimisation
Capable of embracing a wide range of cross-sectorial partnerships
In 2022, the Government of Canada reported on the problems of fragmentation in health data, ineffective governance, and antiquated policies3. A learning health system that supports evidence-driven decisions is called for4. That means a system that utilises collaboration among federal, provincial, and territorial governments. Canadian leaders from the public, private and not-for-profit sectors can use the pandemic as an opportunity to set goals and identify areas of alignment for a stronger, more adaptable, and more flexible system.
Less is not more: building a health system that centres patients
Fostering healthcare system resilience starts with addressing areas primed for improvement. Canada is among the highest spenders on health care.5 In 2021, the country spent 12.7% of its GDP despite proof of continued poor performance6 . Currently, the country's publicly funded system, Medicare, is a reimbursement program where players are rewarded for healthcare activity. It has been argued that this promotes wasted resources, money, and time, resulting in subpar reactive patient care7 in a system that has a long history of cost-containment and a reactive approach to health events and diseases.
It may not be common knowledge, but each province and territory in Canada is responsible for its own management of care. This division creates resourcing problems that impact prevention and alignment to access in care, costing the public.
As serious secondary consequences emerged from the pandemic8, leaders and healthcare experts are recognizing the need to reform the health care system, including by moving toward predictive and preventative care supported by access to health innovations and better utilization of health data. Some of these leaders have come together to as one voice in the Resilient Healthcare Coalition, which was launched in 2021.
Resilient Healthcare Coalition – An important Amgen partner
As a proud founding member and partner of the Resilient Healthcare Coalition (RHC), Amgen Canada is committed to working in tandem with RHC collaborators to create a more resilient and responsive health system centred on patient care.
The RHC seeks to advance policy dialogue on health system resilience by advocating for:
Expansion and acceleration of patient access to innovative health technologies like therapeutics, vaccines, medical devices, and diagnostics.
Better gathering and use of healthcare data to better inform healthcare decisions with a focus on patient outcomes, enhanced adoption of innovation and flexibility to respond and adapt to periods of shock.
The RHC plays a key role in bringing together stakeholders who believe that resiliency is possible and allows policymakers to pressure-test ideas and gather insights. The coalition synthesizes public policy recommendations and solutions and acts as a platform to share ideas and to create impact within the health and life sciences sector.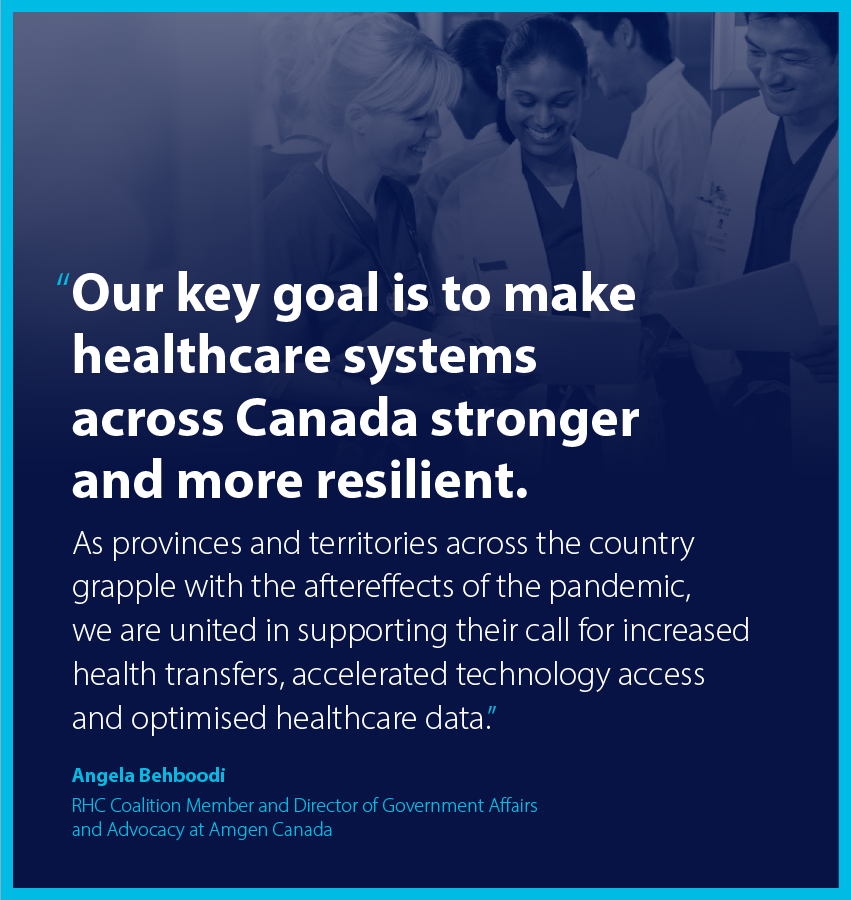 Learning from the past and present to build a healthier future
Current information confirms that we are operating in a "break and fix" system that is shortsighted, expensive, and struggling9 with the significant risks that any call for extra capacity could bring.
While the growing challenges of mental health disorders, substance abuse and social determinants on health have lately been the focus of media and public attention, the reality is that system fragility has compounded the problem in many other areas as well. Subpar care for issues like osteoporosis and cardiovascular disease, as well as dropped or delayed cancer screenings10 have had devastating impacts resulting in excess deaths and missed appointments for chronic diseases, leading to further health complications. Over 560,000 fewer surgeries were performed throughout the pandemic, not to mention a backlog of 327,800 procedures.11 by a system meant to put them first.12
Healthcare workers13 are impacted too. Nearly 72.9 per cent of physicians in Ontario reported burnout in 2021 alone. A cycle of understaffing is driving the call14 for a learning, agile health system and multifaceted solutions to mitigate future issues. Countries that invest in resilience through collaboration, research, digital health technology and market access see positive results, improved care, and more satisfied patients.
When the next shock comes, what do we do? A resilient future is possible
Moving care upstream to proactively treat the patient doesn't seem like a radical idea, yet the conversation around foreseeing and disrupting disease progression and speeding up chronic condition diagnoses is heated. Healthcare systems were forced to adapt their responses due to the COVID-19 pandemic15 , but the changes, while good, are simply not enough going forward.
To build a resilient healthcare system, governments and leaders should:
Activate and encourage partnerships between public, private, and non-profit sectors.
Share, integrate, speed up and spread-out access to transformative health technology like healthcare data around the needs of patients.
Create new innovative models of patient care and scale them for maximum positive patient impact.
A resilient future is possible. It just needs to start before the crisis.
Talk to your doctor about getting yourself and your loved ones screened.
---
1https://www.ncbi.nlm.nih.gov/pmc/articles/PMC7553761/
2https://www.healthcarecan.ca/2019/01/25/digital-health-and-data-platforms-an-opportunity-for-canadian-excellence-in-evidence-based-health-research/
3https://www.canada.ca/content/dam/phac-aspc/documents/corporate/mandate/about-agency/external-advisory-bodies/list/pan-canadian-health-data-strategy-reports-summaries/expert-advisory-group-report-03-toward-world-class-health-data-system/expert-advisory-group-report-03-toward-world-class-health-data-system.pdf
4https://ihpme.utoronto.ca/wp-content/uploads/2021/08/Public-Health-LHS-White-Paper.pdf
5https://www.cihi.ca/en/how-does-canadas-health-spending-compare#:~:text=Canada%20is%20among%20the%20highest,the%20United%20States%2C%20at%20%2413%2C590
6https://www.commonwealthfund.org/sites/default/files/2021-07/PDF_Schneider_Mirror_Mirror_2021_exhibits.pdf
7https://www.canhealth.com/2021/09/30/canadas-healthcare-system-scores-poorly-against-peers/
8https://www.cma.ca/sites/default/files/pdf/health-advocacy/Deloitte-report-nov2021-EN.pdf
9https://www.cma.ca/sites/default/files/pdf/health-advocacy/Deloitte-report-nov2021-EN.pdf
10https://www.cihi.ca/en/news/over-half-a-million-fewer-surgeries-have-been-performed-in-canada-since-the-start-of-the
12https://survivornet.ca/wp-content/uploads/2022/06/Cancer-Cant-Wait-Final-Report-2022-06-14.pdf
13https://www.ctvnews.ca/health/coronavirus/physician-burnout-in-canada-has-nearly-doubled-since-pandemic-started-survey-1.5830914
14https://covid19-sciencetable.ca/sciencebrief/burnout-in-hospital-based-healthcare-workers-during-covid-19/
15https://www.cihi.ca/en/covid-19-resources/impact-of-covid-19-on-canadas-health-care-systems


​