Canadians must reconnect with healthcare to avoid a 'COVID-19 ripple effect'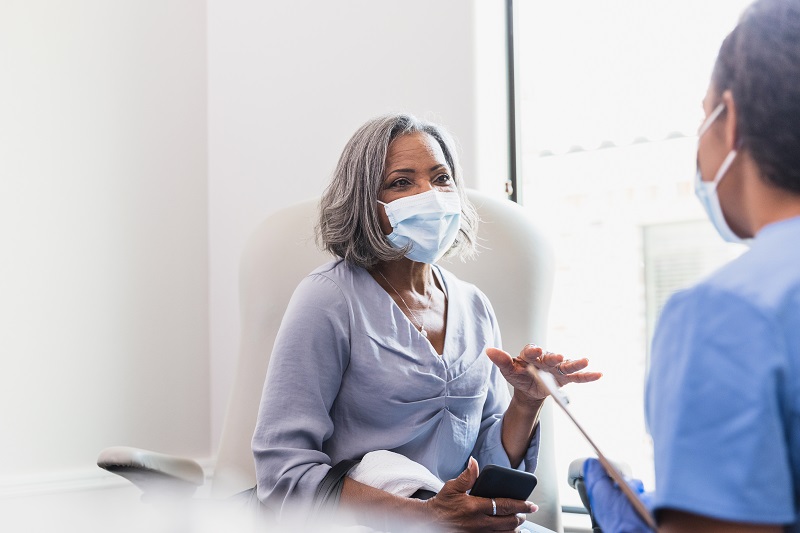 Since at least the fall of 2020, healthcare experts have been warning of a looming health crisis following closely behind the pandemic1. Patients have been missing appointments for screening and treatment for a myriad of health conditions, sometimes because of interruptions in the care available, and sometimes out of fears of contracting COVID-19 outside of their homes.2
Reports started to emerge a few months into the pandemic that many Canadians were missing medical appointments because access to the healthcare system was compromised.3 Take cancer care as one major example: according to a survey commissioned by the Canadian Cancer Survivor Network last summer and published in The Lancet, 54 per cent of Canadian cancer patients reported having their cancer care appointments cancelled, rescheduled or postponed because of COVID-194. Three-quarters of those who are pre-diagnosis or recently diagnosed reported the same.5
Healthcare providers and public health experts are worried about the longer-term consequences of these interruptions. Some have said the "relative neglect of chronic disease management"6 today could cause an unfortunate ripple effect down the road: health issues that aren't being dealt with in a timely way now will create a backlog in the future, when patients finally return to the system.7
Hospitals and clinics have measures in place to restrict the spread of COVID-19, and experts insist that Canadians should be visiting emergency rooms when necessary as they would normally89. Amgen Canada has been helping to make sure patients understand this, and we hope others will also take up this challenge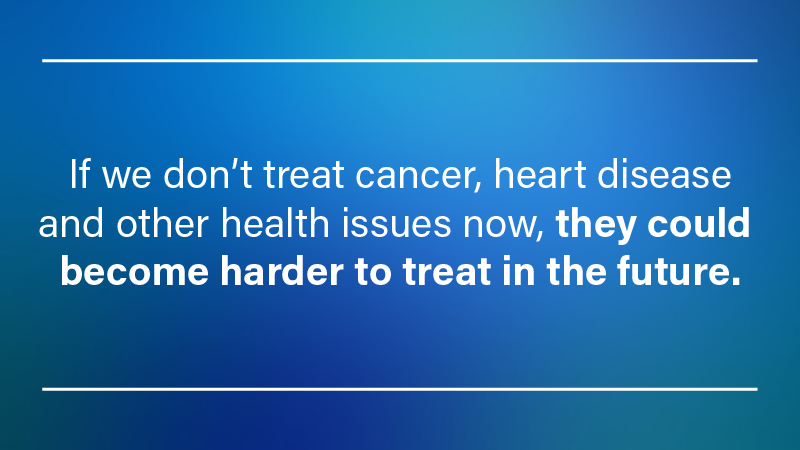 10,11,12
Amgen Canada has been engaged with this important issue during the pandemic. The desire to help patients is at the core of our corporate culture, and it's the reason we've dedicated resources to getting the message out, to encourage people to stay focused on their regular health needs and appointments, notwithstanding fears they may have about contracting COVID-19.
We've also been proud to support the All.Can Canada Initiative, which has been helping Canadians with cancer get the resources they need to continue treatment. In some regions, the program has connected patients with transportation to appointments, for instance.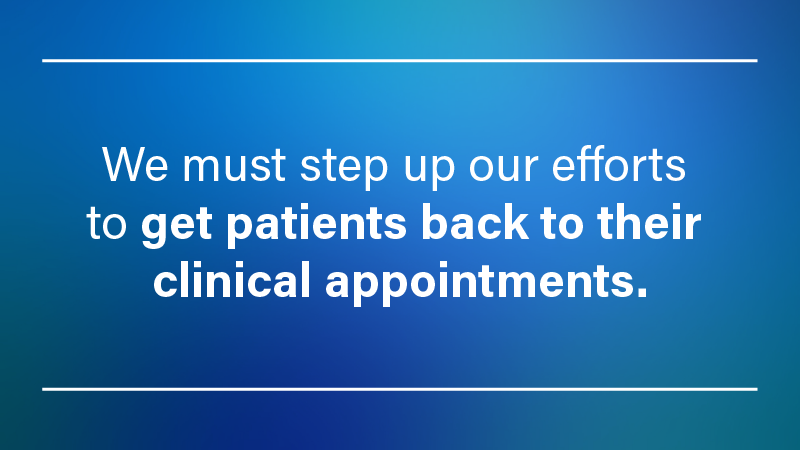 Unfortunately, however, headlines have continued to show signs of people missing medical appointments due to COVID-19.13 We're concerned about what this will mean for patient outcomes down the road.
Now that COVID-19 vaccination campaigns are gathering pace in every province and territory, this could be the time for all of us to step up efforts to get patients back to their clinical appointments, by sharing credible information and providing assistance to those who need help setting up or getting to appointments
We hope Canadians who need in-person support will soon reconnect with the healthcare system. When it comes to cancer, for example, screening appointments that were cancelled or postponed earlier in the pandemic may once again be available14. Patients can ask their healthcare providers or check with provincial health authorities to see what the status is where they live.15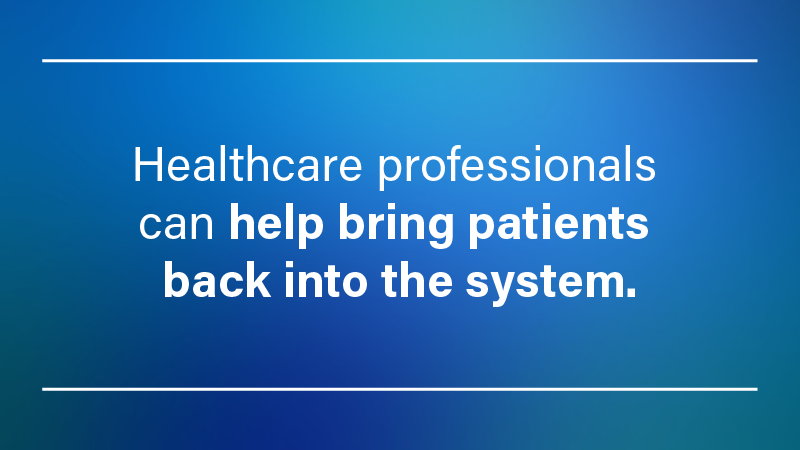 Healthcare professionals can also play an important part in encouraging patients to book appointments, get screened and generally reconnect with the healthcare system and their own long-term medical needs. Now is the time to help Canadians get the care they need.
1 https://edmontonjournal.com/news/local-news/collateral-damage-of-covid-19-could-lead-to-second-crisis-in-health-care-ama
2 https://www.cbc.ca/news/health/covid-19-emergency-departments-canada-1.5510778
3 https://angusreid.org/covid19-medical-access/
4 https://www.ncbi.nlm.nih.gov/pmc/articles/PMC7377791/
5 https://survivornet.ca/news/cancer-patients-face-double-jeopardy-with-covid-19/
6 https://www.osteoporosis.foundation/sites/iofbonehealth/files/2021-02/Fuggle2021_Article_HowHasCOVID-19AffectedTheTreat.pdf
7 Example: https://globalnews.ca/news/6990904/coronavirus-canadians-medical-appointments/
8 https://www.ctvnews.ca/health/coronavirus/canadian-hospitals-take-drastic-measures-amid-covid-19-crisis-1.4855849
9 https://www.ctvnews.ca/health/don-t-avoid-going-to-the-er-because-of-pandemic-canadians-urged-1.5268577
10 Annals of Oncology – Collateral Damage: The Impact on outcomes from cancer surgery of the COVID-19 pandemic
11 The BMJ – Mortality Due to Cancer Treatment Delay: Systematic Review and Meta-Analysis
12 University of Alberta – Women's heart health shouldn't take a backseat to coronavirus
13 Examples:
A) https://globalnews.ca/news/7618837/world-cancer-day-feb-4-2021-coronavirus/
B) https://www.ctvnews.ca/health/coronavirus/hidden-death-toll-doctors-say-people-dying-as-they-avoid-ers-due-to-covid-fears-1.4902055
C) https://www.cihi.ca/en/covid-19-resources/impact-of-covid-19-on-canadas-health-care-systems/covid-19s-effect-on-hospital
14 https://globalnews.ca/news/7693975/coronavirus-ontario-cancer-screenings/
15 Examples:
A) https://www.cancercareontario.ca/en/get-checked-cancer/screening-during-covid-19
B) http://www.bccancer.bc.ca/screening/health-professionals/covid-19-and-cancer-screening
C) https://www.quebec.ca/en/health/advice-and-prevention/screening-and-carrier-testing-offer/quebec-breast-cancer-screening-program/