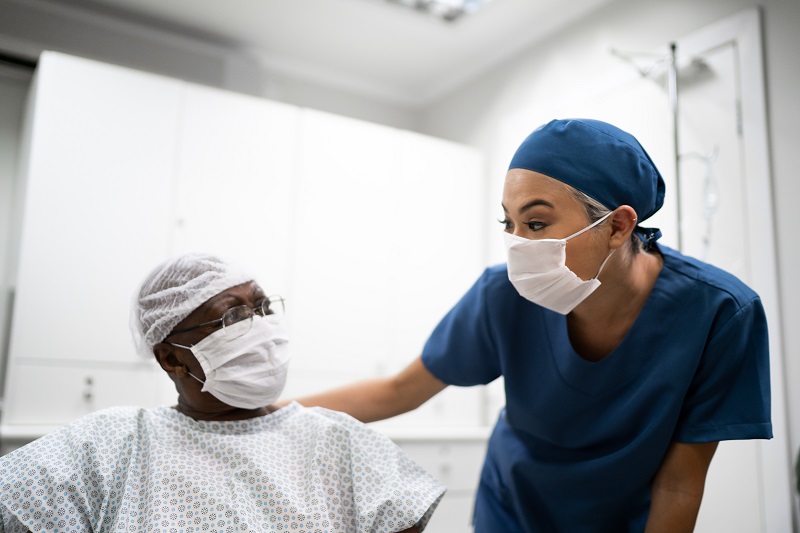 The COVID-19 pandemic has been challenging for everyone, and that's certainly true for Canadians who have been affected by chronic conditions like osteoporosis and high cholesterol, as well as diseases like cancer.
Whether you or the people you care for are currently in treatment or in remission, you may have experienced difficulties booking appointments or fulfilling prescriptions. Despite the pandemic, it's crucial for cancer patients to keep to their medical appointments and treatments. The good news is that resources are available to help them do so. (More on that below.)
Yes to keeping medical appointments
What's at stake? Some experts are worried that cancer that isn't dealt with in a timely way now will become harder to treat in the future. The Canadian Cancer Society estimated that in 2020, an average of 617 Canadians will be diagnosed with cancer each day. But with fewer people getting tested during the pandemic, some doctors fear that this could be leading to missed or delayed diagnoses, with the potential for serious consequences for patients.
For example, there are reports in Quebec that thousands of people may have missed timely detection of malignancies because of COVID-related disruptions, including the postponement of tests and screenings in the province's hospitals and clinics. Between March 15 and May 31, 2020, the number of screenings for colorectal, breast and cervical cancers in Ontario plummeted over the previous year — by 97 per cent in the case of screening mammograms.
Also in Ontario, it has been reported that 23,629 cancer surgeries were performed on adults between March 17 and October 20 of this year versus 29,341 over the same 218-day period in 2019 — a drop of around 5,700, or 19 per cent.
Depending on the jurisdiction, screening appointments that were cancelled or postponed earlier in the pandemic may once again be available. For healthcare providers and patients who are trying to re-book a previously postponed test, delays are possible – some health systems may still be catching up to the backlogs created by earlier postponements. Certain hospitals and clinics are still being forced to reallocate resources to deal with the pandemic, which can lead to changes in care delivery including cancellation of diagnostic and other procedures. Check with your provincial health authorities to see what the status is in your area.
Even if scheduled or regular appointments are available, some patients may worry that their immune system is especially vulnerable to viral infection. Perhaps they've been avoiding leaving the house, even to go to appointments relating to cancer. It's natural for anyone to be concerned if they believe their health status may put them at increased risk for COVID-19.
At the same time, people who are experiencing any symptoms or health complaints that may require attention, medical professionals urge them to seek it now rather than waiting. As the pandemic ebbed in June and July 2020, hospital emergency departments reported seeing surges of patients who had been staying home out of fear of COVID-19. This caused capacity overflows and increased wait times — and deteriorating health for some patients who had not sought treatment in a timely way.
Amgen Canada's social responsibility commitments during COVID-19
Amgen is proud to support a number of organizations and programs that are helping Canadians during the COVID-19 pandemic.
Those who may need some assistance with living with cancer and a pandemic at the same time can visit the All.Can Canada Initiative to find out about support and resources that may be available. Depending on where you live, they could include: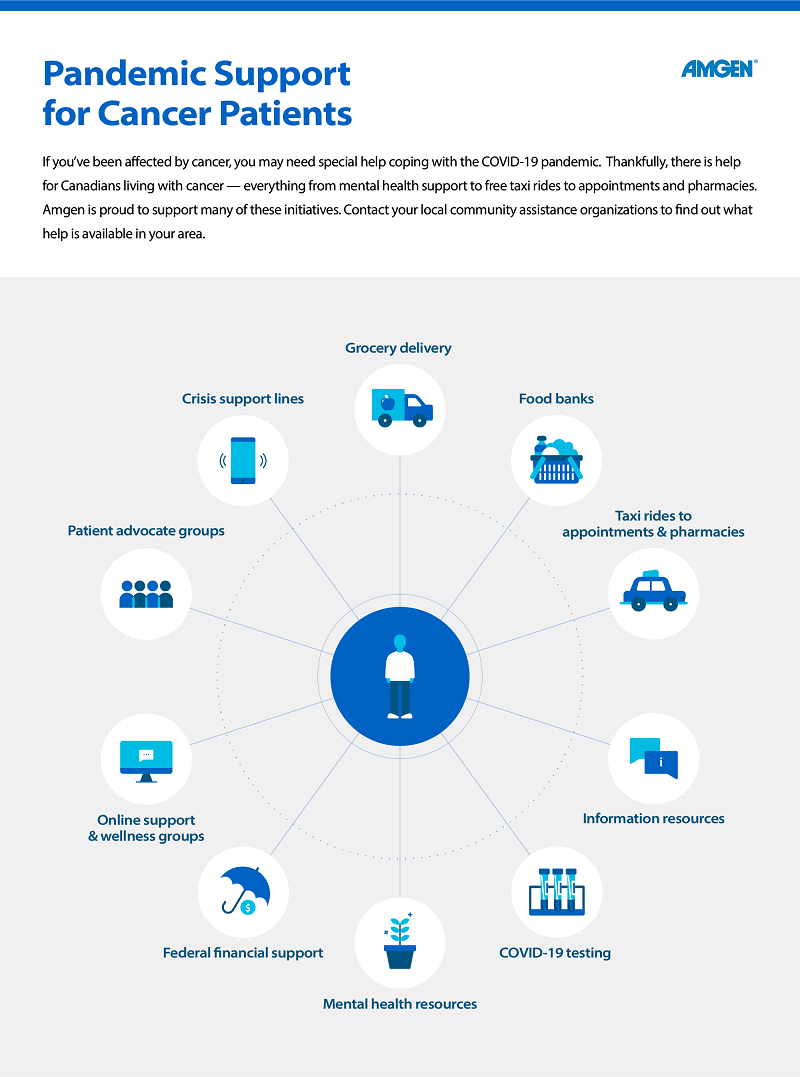 As part of our commitment to social responsibility, Amgen Canada has also supported the Canada Helps COVID-19 Hospital Fund, which distributes funds to charities and hospital foundations that provide medical response efforts, lifesaving aid and critical equipment. Those who are interested in making a donation can do so here.
Earlier this year, Amgen Canada made a substantial contribution to an industry-wide effort, led by Innovative Medicines Canada, to urgently supply 100,000 N95 masks to communities across the country.
Serving patients is a central part of Amgen Canada's company culture. No matter what the additional challenges may be, we're committed to living up to that mission through the pandemic and beyond.
---