How a Canadian gastroenterologist talks to patients about biologic and biosimilar drugs
As people who are experiencing a number of diseases and conditions — including certain cancers (non-Hodgkin's lymphoma and chronic lymphocytic leukemia), rheumatoid and psoriatic arthritis, Crohn's disease and ulcerative colitis1 — may already know, biologic drugs (also known as biologics) are a class of drugs derived through the metabolism of living organisms, unlike traditional "small-molecule" drugs that are chemically derived.2,3
You may also have heard about "biosimilars"; the term refers to a biologic drug that is a highly similar version of a biologic drug that was already authorized for sale.4
As a gastroenterologist and director of the Vancouver Island IBD (Inflammatory Bowel Disease) Clinic in Victoria, British Columbia, Dr. Dustin Loomes often encounters patients who have questions about originator biologic and biosimilar drugs.
"My preferred method of interacting with patients is as a trusted advisor, but I like the patient to be making the decisions," he says. "Then I can provide the most non-biased information to them as possible, and then they can make the choice that's best for them. I really like that model of providing care."
This is how he explains what a biologic drug is, for example: "A biologic is really just a term for a medication that comes from a living organism or its cells, and there are many types of biologic medications.5 I also tell patients that targeted therapies are developed by directly targeting molecules that are believed be involved in inflammatory processes in the body."6
When it comes to the potential differences between originator biologics and biosimilars, Dr. Loomes says there are no expected clinically meaningful differences in efficacy and safety between a biosimilar and the biologic drug that was already authorized for sale. "Europe has been using biosimilar medications for at least a decade now."7
From his perspective as a physician, Dr. Loomes says patients can have the same confidence in the quality, efficacy and safety as in any other biologic drug.8 Information provided by the manufacturer about the biosimilar drug, he says, "has been assessed by regulatory bodies before any drug is authorized for sale."9
The first biosimilar entered the Canadian market in 2009 and Health Canada had authorized 36 biosimilars of originator biologics for sale as of April 2021.10,11
In Dr. Loomes's own anecdotal experience, Canadian patients are getting more familiar and comfortable with biosimilar drugs. "I think back to when we started using biosimilars, and there were more questions from patients about these medications. We would have more detailed discussions," he says. "Lately, there does not seem to be a lot of anxiety with most patients, or concern with most patients."
Many of those patients, Dr. Loomes says, have changed from using originator biologics to biosimilars.
"We have switched over hundreds of patients on the island."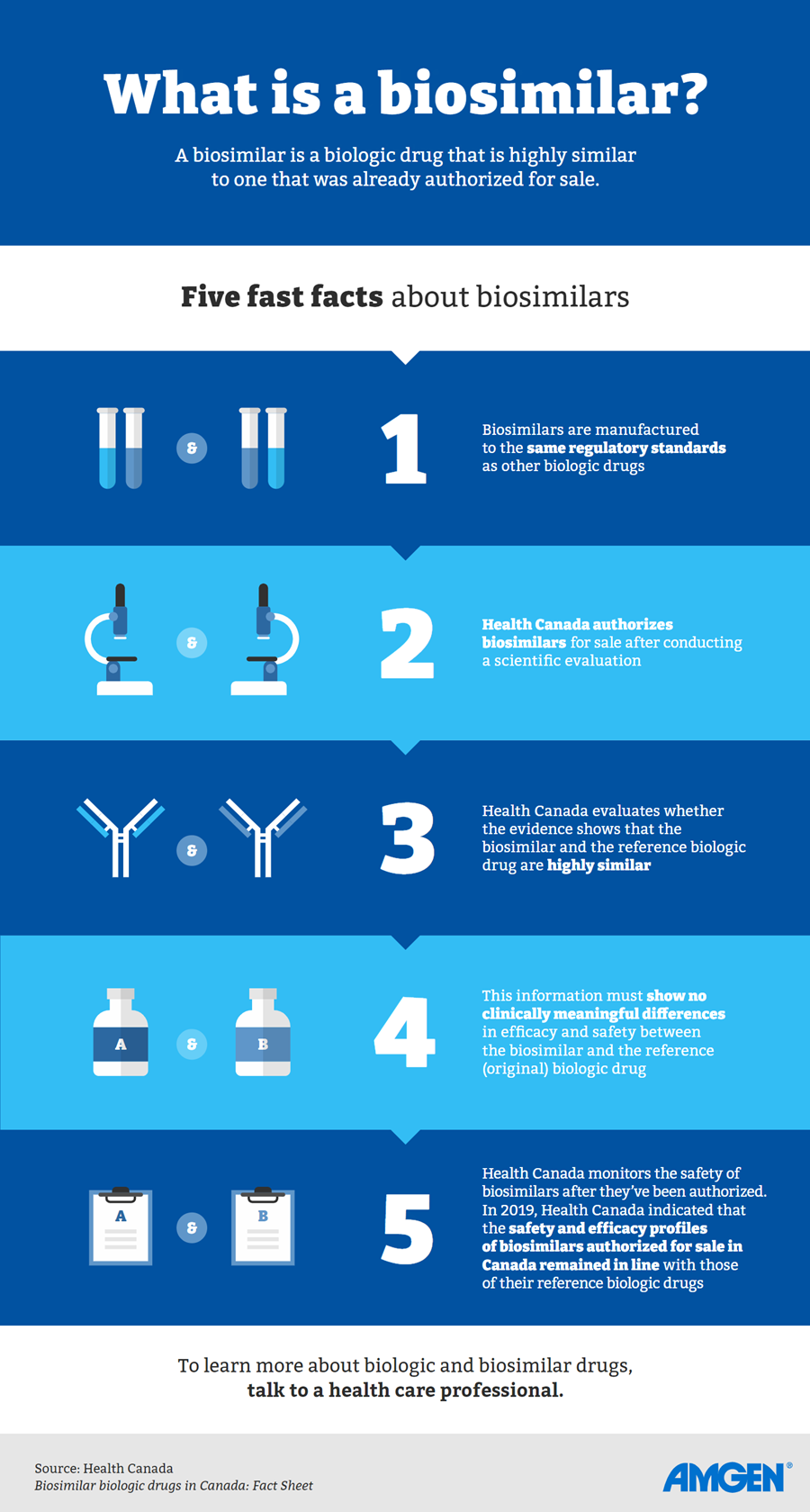 1 Please see product monographs attached for Amgevita, Avsola and Riabni, all of which are biosimilar (biologic) drugs authorized for sale in Canada. Conditions mentioned in the text are highlighted in the "Indications" section of each monograph.
2 CADTH fact sheet
3 University College London: UCL Therapeutic Innovation Networks
4 Biosimilar biologic drugs in Canada: Fact Sheet - Canada.ca (first paragraph)
5 CADTH fact sheet
6 What is the future of targeted therapy in rheumatology: biologics or small molecules? - BMC Medicine (Background section, third paragraph)
7 Kurki, Pekka, et al. "Interchangeability of biosimilars: a European perspective." BioDrugs 31.2 (2017): 83-91. (See Abstract)
8 Health Canada fact sheet (How we regulate biosimilars in Canada)
9 Health Canada fact sheet (Information requirements for initial authorization of a biosimilar)
10 Canadian Digestive Health Foundation
11 Smart & Biggar Update on Biosimilars in Canada — April 2021
12 Section: Biosimilars explained
13 Section: How we regulate biosimilars in Canada
14 Section: How we regulate biosimilars in Canada
15 Validated in several sections, including: Authorizing indications
16 Section: Information requirements for initial authorization of a biosimilar
17 Section: How we monitor the safety of biosimilars after they have been authorized
---