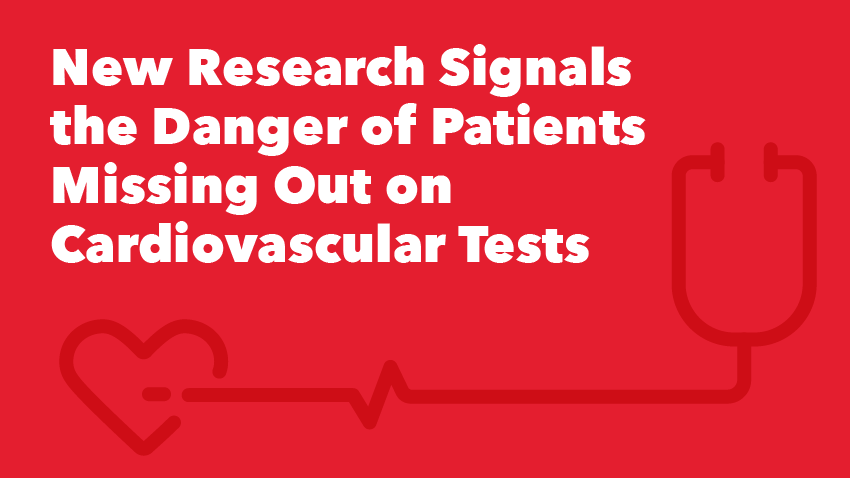 The COVID-19 pandemic has kept thousands of Canadian patients from receiving critical medical care.1 Some have stayed away from going to the ER when they have serious health issues, unrelated to the pandemic, out of fear of contracting the virus.2 Others have faced barriers to medical care, such as temporary cancellations of essential medical procedures at hospitals that were swamped with COVID-19 patients.3
Now healthcare researchers are assessing and measuring the impacts of those disruptions — including what they could mean for patients' heart health.
A new study has revealed an alarming drop in cardiovascular disease screening during the pandemic. Published in the Journal of the American College of Cardiology, dozens of medical researchers on six continents who serve on a committee of the International Atomic Energy Agency (IAEA) report that COVID-19 has been associated with a significant and sudden drop worldwide in cardiovascular diagnostic testing.4
Dr. Paolo Raggi of the Mazankowski Alberta Heart Institute in Edmonton was the lead Canadian involved in the IAEA committee, which included experts in clinical cardiology and cardiac imaging from around the world.5
He said the present study was "initially devised to be an entirely different investigation, and then it pivoted when COVID started."
Last spring, the committee began to question whether patients were missing out on cardiac diagnostics during the first wave of the COVID-19 pandemic. They asked clinics around the world to report on how many patients were receiving common diagnostic procedures, including transthoracic echocardiography and transesophageal echocardiography, cardiac magnetic resonance (CMR), and stress testing.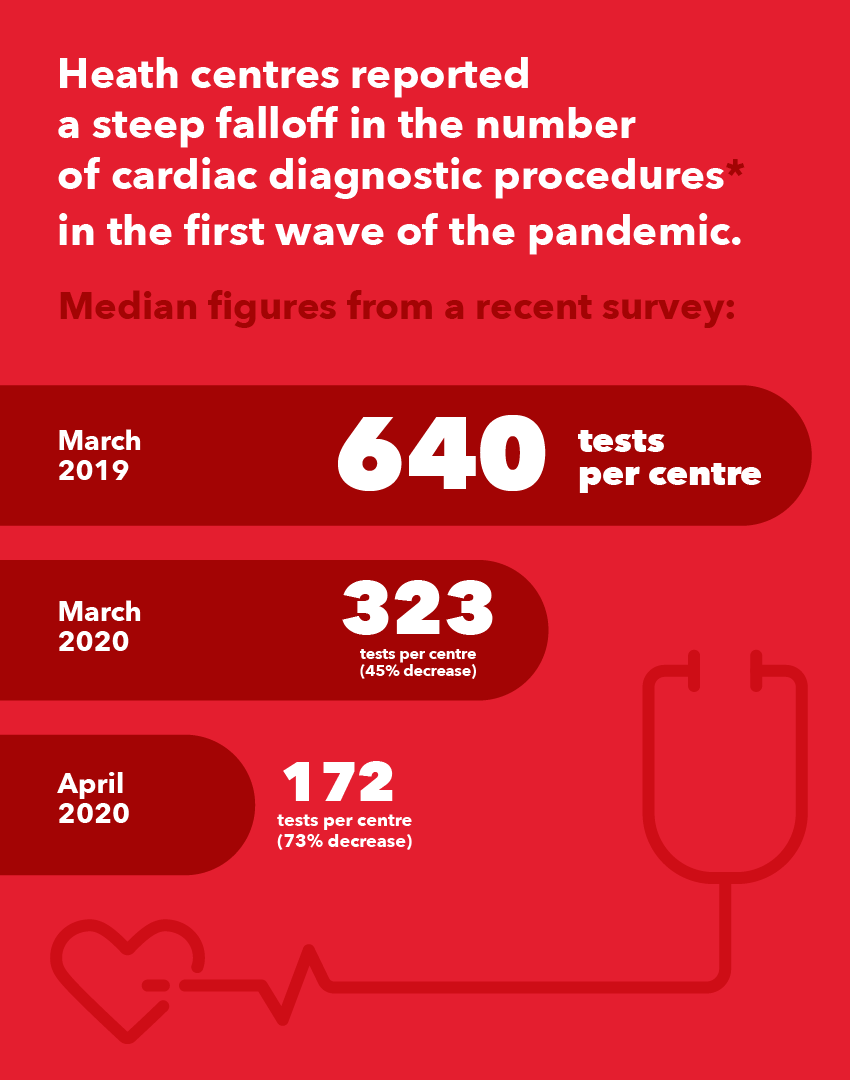 6
Surveys came back from 909 medical facilities that perform cardiovascular diagnostic procedures in 108 countries. They showed that procedure volumes had fallen 42 per cent from March 2019 to March 2020, and a staggering 64 per cent from March 2019 to April 2020.7
"The results were quite shocking," Dr. Raggi said. "Most of the tests that I use to diagnose heart disease had dropped in volume — anywhere between 40 and 80 per cent, depending on what type of test we were looking at."
The causes, he said, were twofold: patients' fear of contagion keeping them away from medical appointments and settings, and interruptions to healthcare caused by the pandemic. "Systems had to shut down to avoid being overrun by patients with COVID-19," he said.
Dr. Raggi said the chief worry for him and other healthcare professionals is that cardiovascular disease that would already have been caught under ordinary circumstances remains undetected because of the pandemic. And, because they're not being treated now, those patients could face more serious issues by the time they finally get care. "If we delay diagnosis, and we delay meeting with patients, we could condemn a lot of people to suffer long-term consequences from overlooked cardiovascular conditions," he said.
While the IAEA study noted that lower-income countries were most affected by COVID-19-related disruptions to cardiovascular diagnostic testing,8 another study, published in the Canadian Journal of Cardiology, focuses on the domestic situation in Canada. It affirms that cardiovascular testing and procedures remained a challenge close to home during the first wave of the pandemic due to dramatically increased wait times.9
"Hospitals and ambulatory facilities significantly reduced cardiac care delivery in preparation for a surge of COVID-19," says the study, which was authored by 31 healthcare professionals from across the country. "Procedures such as noninvasive diagnostic tests … and cardiac surgeries were severely restricted, performed only on an urgent or emergency basis."10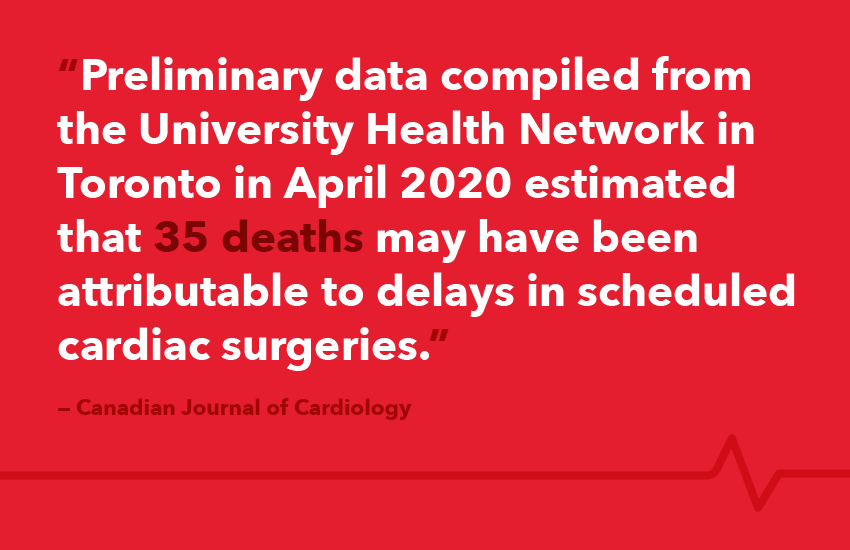 11
As the pandemic continues, the Canadian study suggests healthcare systems to adopt an approach that balances the need for health care resources to ensure COVID-19 surge capacity with "continued delivery of needed cardiovascular care."12
It makes several recommendations for how to achieve this, including having the government prioritize and invest in enhancing the capacity of remote health care infrastructure across the country. It also suggests local health centres consider establishing expert panels to oversee the processes of triaging cardiac tests to ensure they are given based on appropriate indications and urgency, in line with local capacity and expertise.13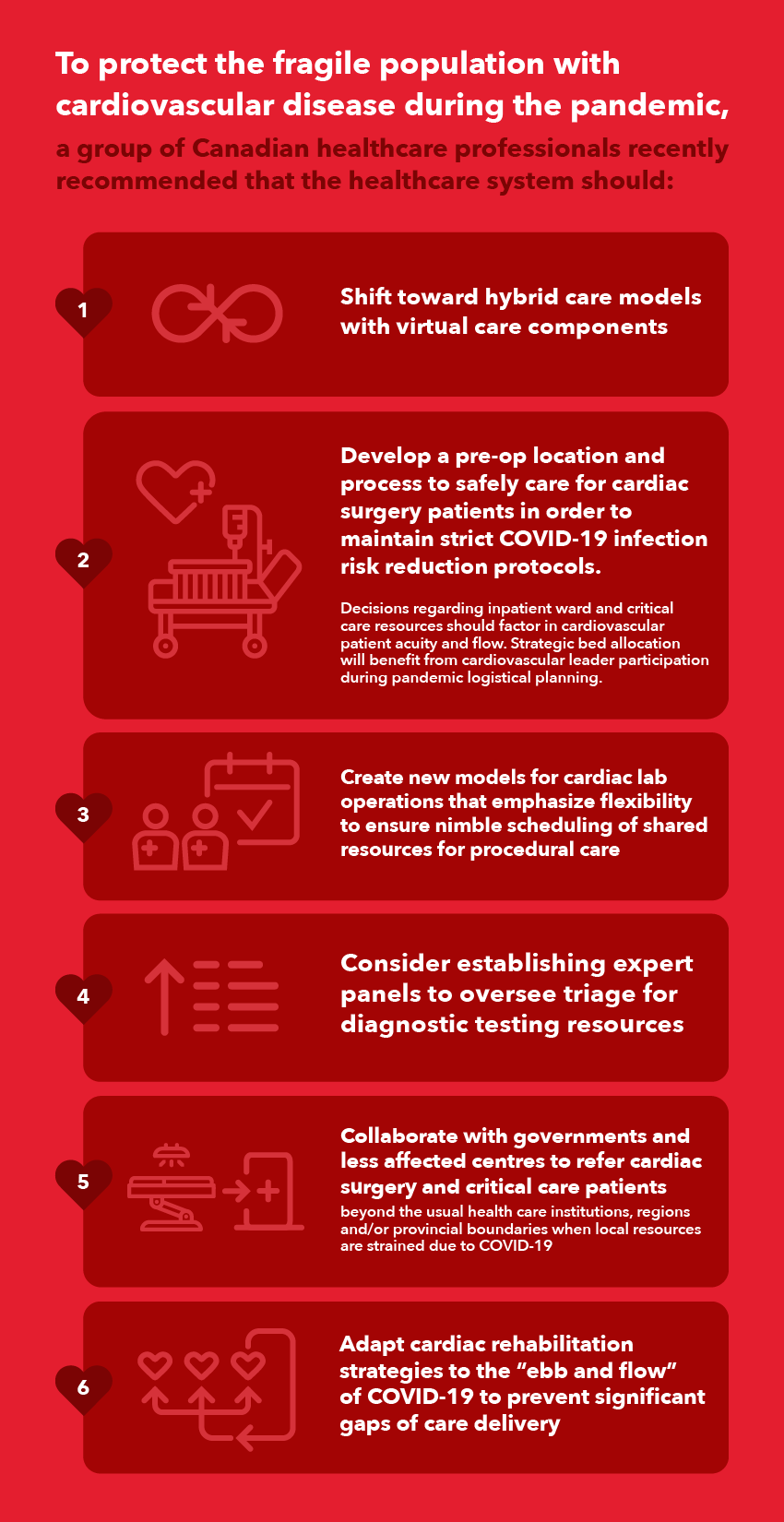 14
The Canadian Cardiovascular Society, meanwhile, is running a research project to measure the impact of public health and jurisdictional government policies on cardiovascular care in the context of the pandemic in Canada to help inform future health policy and planning needed to reduce the CV health consequences of current and future waves of COVID-19 at the population health level. The initiative includes a Cardiovascular Care Dashboard, which researchers regularly update to display the number of cardiac procedures, hospitalizations and deaths during the pandemic.15
Dr. Raggi agreed that healthcare professionals, patients and other stakeholders would be wise to remember the importance of heart health even as the pandemic continues through a third wave. The COVID-19 situation is serious, he acknowledged, but cardiovascular disease causes millions of deaths around the world each year.
1 https://www.cbc.ca/news/health/covid-emergency-department-surgery-cihi-1.5808191
2 https://www.ctvnews.ca/health/coronavirus/hidden-death-toll-doctors-say-people-dying-as-they-avoid-ers-due-to-covid-fears-1.4902055
3 https://www.cbc.ca/news/health/covid-emergency-department-surgery-cihi-1.5808191
4 International Impact of COVID-19 on the Diagnosis of Heart Disease (p. 173)
5 International Impact of COVID-19 on the Diagnosis of Heart Disease (p. 174)
6 International Impact of COVID-19 on the Diagnosis of Heart Disease (Page 176)
7 International Impact of COVID-19 on the Diagnosis of Heart Disease (p. 173, 176)
8 International Impact of COVID-19 on the Diagnosis of Heart Disease (p. 173)
9 Cardiovascular Care Delivery During the Second Wave of COVID-19 in Canada (p. 1)
10 Cardiovascular Care Delivery During the Second Wave of COVID-19 in Canada (p. 2)
11 Cardiovascular Care Delivery During the Second Wave of COVID-19 in Canada (Page 3)
12 Cardiovascular Care Delivery During the Second Wave of COVID-19 in Canada (Page 3)
13 Cardiovascular Care Delivery During the Second Wave of COVID-19 in Canada (p. 3)
14 Cardiovascular Care Delivery During the Second Wave of COVID-19 in Canada (Page 2, 3)
15 https://c3i.app/ - Tableau de bord des soins cardiovasculaires
16 Maladies cardiovasculaires