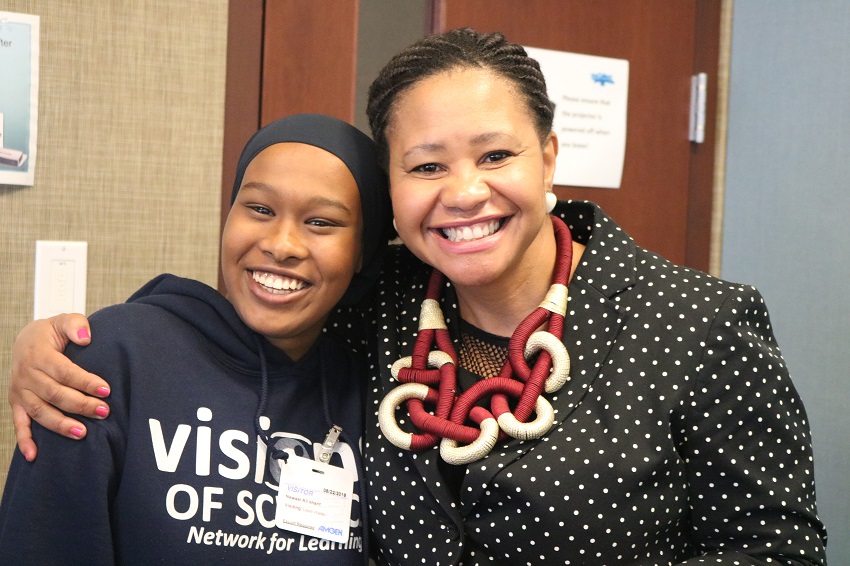 More than 15 youth from Visions of Science's STEM Community Leaders Program visited Amgen Canada to learn about STEM careers and working in a biotechnology company. Amgen staff across several departments discussed their roles and career paths, shedding light on their stories and experiences. Participants also received advice about pursuing postsecondary education in STEM fields.
Jimmy Tieu from Amgen Canada's Medical team kicked things off by recounting his educational path through pharmacy school before discussing how he assumed his role at Amgen Canada.
Davida Denich and Alexandra Garbe from Marketing talked about their career paths. "I think what was most fascinating for the participants to learn is that you don't have to be a scientist or doctor to pursue a career in science and technology" says Davida. "It was great having an informal talk with the students where they felt comfortable enough to ask lots of engaging and insightful questions."
Executive Medical Director Dr. Ponda Motsepe-Ditshego also spoke about their experiences working with Amgen Canada, with Motsepe-Ditshego in particular highlighting her passion for serving patients and the need for more diversity in the pharmaceutical industry.
Visions of Science's STEM Community Leaders program aims to provide youth in underserved communities with immersive STEM-based experiential learning opportunities directed towards the pursuit of post-secondary education and enhanced career aspirations.
Visions of Science's CEO Eugenia Duodu was recently featured in the Toronto Star as one of 12 Canadians who are making our lives better. Click here to learn more about Visions of Science Network for Learning.